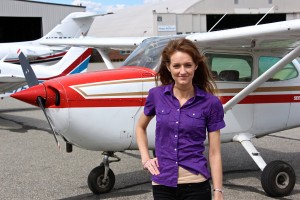 Are you a licensed pilot? Haven't flown in a while? Thinking of getting back into the left seat and feeling that thrill of flight once again? Then the AeroVenture Institute has just the cure for what ails you! 
Flight Review
In order to act as pilot in command of an aircraft, a pilots need to complete a flight review every 24 calendar months.
A flight review consists of at least 1 hour of ground training and 1 hour of flight training with a certified flight instructor. The purpose of the review is to go over current general operating and flight rules, found in part 91 of the FARs, and review maneuvers and procedures that are necessary for safe flight.
To complete the review and exercise the privileges of your certificate, you must have a logbook endorsement from an authorized instructor.
AeroVenture stands ready to help you complete flight reviews as well as instrument proficiency checks to help you make sure you are maintaining your knowledge and skills and to keep your pilot certificates current.
Several times per year, the AeroVenture Institute in partnership with the Aircraft Owners and Pilots Association (AOPA) hosts at Rusty Pilot Seminar for airmen who find themselves out of currency. The seminars are free and open to the flying public. Please call for upcoming dates and details.
Instrument Proficiency Check
No pilot may act as pilot in command in Instrument Meteorological Conditions (IMC) unless within the 6 months preceding the month of the flight, the pilot has performed the following in instrument conditions (true or simulated):
6 instrument approaches
Holding procedures and tasks
Intercepting and tracking courses through the use of navigational electronic systems
If you have gone more than 6 months and do not meet the aforementioned Instrument Experience requirements, you can complete an Instrument Proficiency Check with an authorized AeroVenture Institute instructor to regain your coveted Instrument Currency. An FAA-approved PI-135 Flight Simulator is available for use toward maintaining your Instrument currency.
An Instrument Proficiency Check consists of the areas of operation and instrument tasks required in the Instrument Rating Airman Certification Standards (ACS). For more information on how to begin the process of completing your BFR or IPC at AeroVenture, please call us at (405) 355 AERO or sign up today using the link below!