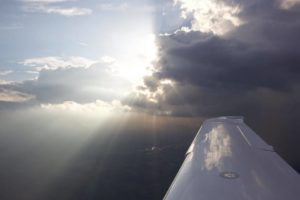 Are you a licensed Private Pilot? Can't get enough of aviation? Tired of being delayed or diverted by weather that is below VFR minimums? Then the Instrument Pilot Rating might just be your next step to an exciting opportunity to further challenge yourself and enhance your piloting skills!
Eligibility
Be at least 18 years of age.
Read, write, and speak the English language.
Hold at least a Private Pilot Certificate.
Obtain at least a 3rd class FAA medical certificate. 
The Instrument Rating is normally the next step a pilot will take after receiving his Private Pilot Certificate. It allows you to legally fly in weather conditions below the minimums of the Visual Flight Rules (VFR). You will learn to make approaches to runways that can safely bring you to within 200 feet of the ground! It will make you a safer, confident, more precise and proficient pilot.
Requirements
Part 61
Have 50 hours of logged PIC cross-country time.

Complete 40 hours of instrument flight training, 15 of which must be with a Certified Flight Instructor (CFI).

Complete a cross-country flight of more than 250 nautical miles along routing directed by Air Traffic Control (ATC).
Complete ground training and pass a written exam with a score of at least 70%.
Pass an oral exam and check ride with an FAA designated Flight Examiner.
Privileges
Fly safely and confidently through conditions below VFR weather minimums that would restrict and delay VFR-only private pilots! For more information on how to begin your journey of becoming an Instrument rated pilot at AeroVenture, please call us at (405) 355 AERO or sign up today using the link below!